By default, the BitssCloud Platform provides users with Shared Load Balancer, which represents a single entry point for all of the users' applications, located at a hardware node. However, for more secure and effective work with your production environments, it is recommended to get and process the requests using a Public IP address, which allows to form a direct connection between the Internet and a specific server within your environment.
It can be attached to any instance in the environment with your application (except Maven), representing more stable solution with less risk to be affected by other apps, that use Shared Load Balancer.
Internet Protocol version 4 (IPv4) is the fourth revision in the development of the Internet Protocol (IP) and the first version of the protocol to be widely deployed. In order to bind an external IP address to the required node, you need to choose it within the Environment topology window and turn the Public IPv4 switcher on at its central frame.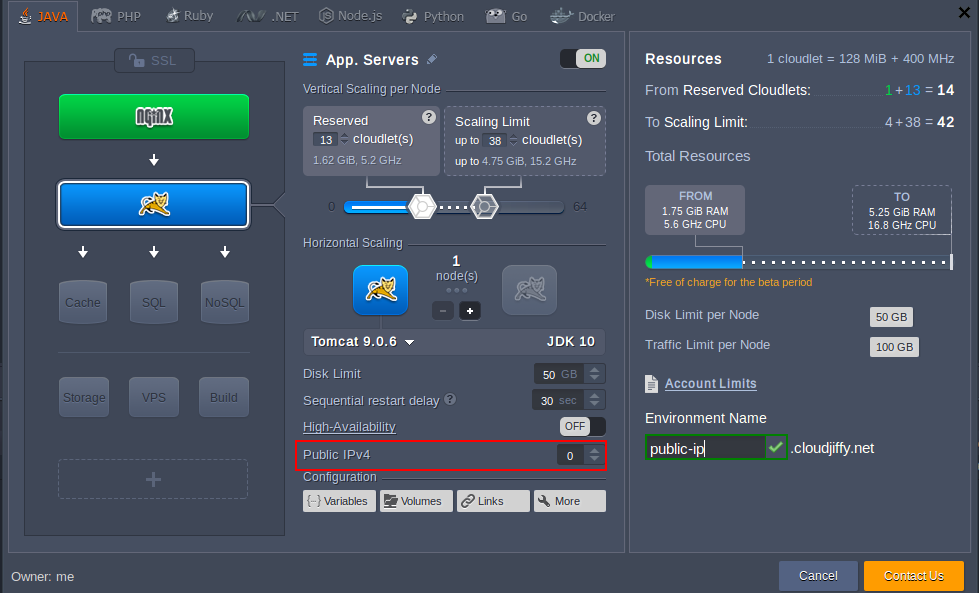 Note: In case of enabling this option for the horizontally scaled node, each of its containers will be supplied with its own external address.
In order to find the allocated IP, expand the appropriate server string for the list of added nodes to be displayed, and click the additional button (with gear icon) next to the desired one.




You'll see the attached IPs listed, wherein the second address is the required external IP (while the first one is internal).Note:
This service is paid, wherein the cost is taken for every hour of using Public IPv4. The exact priceis defined by a particular hoster and can be found at the dashboard.
If you have Public IP enabled for any node in your environment, you can't swap domains for it.